Another week, another Waiting on Wednesday! WoW is a weekly meme that started on Breaking the Spine. Here's what I'm looking forward to this time around:
Eliza and her Monsters by Francesca Zappia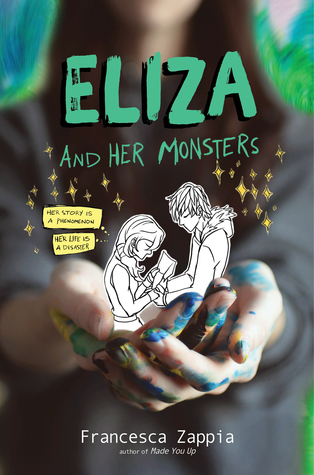 Description (from Goodreads):

In the real world, Eliza Mirk is shy, weird, and friendless. Online, Eliza is LadyConstellation, anonymous creator of the wildly popular webcomic Monstrous Sea. Eliza can't imagine enjoying the real world as much as she loves her digital community, and has no desire to try.

Then Wallace Warland, Monstrous Sea's biggest fanfiction writer, transfers to her school. Wallace thinks Eliza is just another fan, and Eliza begins to wonder if a life offline might be worthwhile. But when Eliza's secret is accidentally shared with the world, everything she's built—her story, her relationship with Wallace, and even her sanity—begins to fall apart.

With illustrations from Eliza's webcomic, as well as screenshots from Eliza's online forums and snippets of Wallace's fanfiction, this uniquely formatted book will appeal to fans of Noelle Stevenson's Nimona and Rainbow Rowell's Fangirl.
Release Date: May 30, 2017
Why I'm Waiting: I've come to love books that deal with being in fandom: Rainbow Rowell's Fangirl and Danica Stone's All the Feels come to mind. This book sounds like it's in the same vein as those two and it sounds like a nice, fluffy read.
Talk to me, book lovers: what are you waiting for this Wednesday?