Another week, another Waiting on Wednesday! WoW is a weekly meme hosted on Breaking the Spine. Here is what I'm waiting on this Wednesday:
10 Things I Can See From Here by Carrie Mac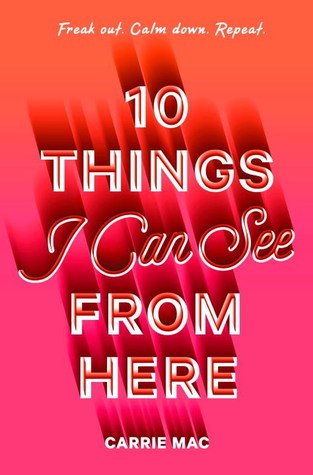 Description (from Goodreads):

Perfect for fans of Finding Audrey and Everything, Everything, this is the poignant and uplifting story of Maeve, who is dealing with anxiety while falling in love with a girl who is not afraid of anything.

Think positive.
Don't worry; be happy.
Keep calm and carry on.

Maeve has heard it all before. She's been struggling with severe anxiety for a long time, and as much as she wishes it was something she could just talk herself out of, it's not. She constantly imagines the worst, composes obituaries in her head, and is always ready for things to fall apart. To add to her troubles, her mom—the only one who really gets what Maeve goes through—is leaving for six months, so Maeve will be sent to live with her dad in Vancouver.

Vancouver brings a slew of new worries, but Maeve finds brief moments of calm (as well as even more worries) with Salix, a local girl who doesn't seem to worry about anything. Between her dad's wavering sobriety, her very pregnant stepmom insisting on a home birth, and her bumbling courtship with Salix, this summer brings more catastrophes than even Maeve could have foreseen. Will she be able to navigate through all the chaos to be there for the people she loves?
Release Date: February 28, 2017
Why I'm Waiting: I made a vow to read more contemporaries and books with LGBT storylines this year, and this book fulfils both of those requirements. I have mild anxiety myself and it's not something we often see portrayed in fiction, at least not in a respectable way. I'm hoping books like this one can change that.
What are you waiting on this week?