Time for your weekly dose of book anticipation! Waiting on Wednesday is hosted by Breaking the Spine. Here's what I'm looking forward to this week:
Wires and Nerve Vol. 1 – Marissa Meyer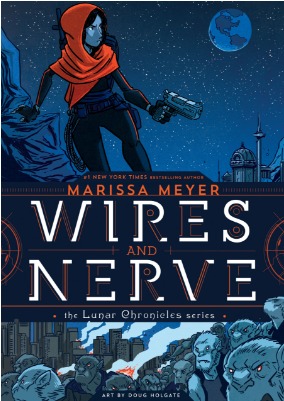 Description (from Goodreads):

In her first graphic novel, #1 New York Times and USA Today bestseller Marissa Meyer follows Iko, the beloved android from the Lunar Chronicles, on a dangerous and romantic new adventure — with a little help from Cinder and the Lunar team.

In her first graphic novel, bestselling author Marissa Meyer extends the world of the Lunar Chronicles with a brand-new, action-packed story about Iko, the android with a heart of (mechanized) gold. When rogue packs of wolf-hybrid soldiers threaten the tenuous peace alliance between Earth and Luna, Iko takes it upon herself to hunt down the soldiers' leader. She is soon working with a handsome royal guard who forces her to question everything she knows about love, loyalty, and her own humanity. With appearances by Cinder and the rest of the Rampion crew, this is a must-have for fans of the bestselling series.
Release date: January 31, 2017
Why I'm waiting: I'm a hardcore Lunar Chronicles fan and I'm really looking forward to seeing my favourite android Iko get a piece of the action! Iko is the most adorable android I've ever encountered and when I was reading the earlier books in the series, I kept wishing I had a friend like her. The graphic novel format is a departure from the previous books, but I think it will be a good fit for Iko's action-packed adventures. I've started to read a lot more comics in the last year and a half, so I'm really excited for this.
What are you waiting on this Wednesday?